XMLdation wins the Grow to USA program by Kasvu Open 2017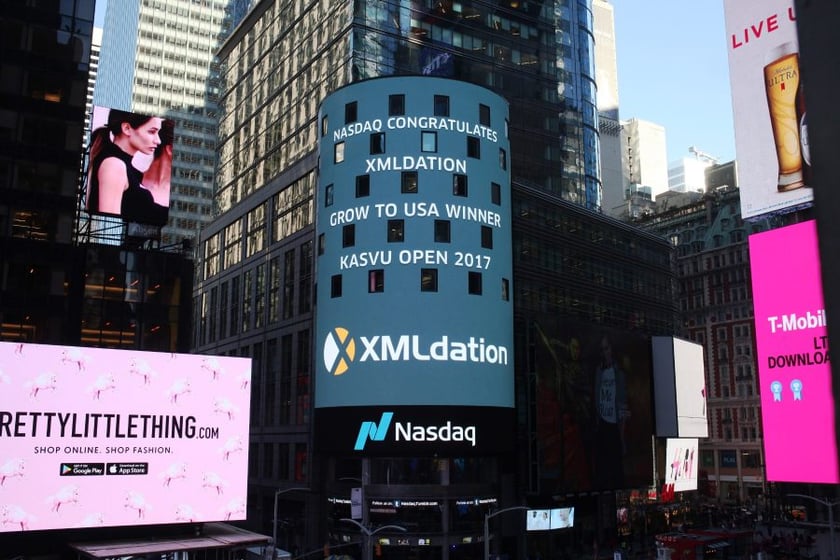 XMLdation is one of the three companies to win the Grow to USA program organised by Kasvu Open. The award was granted on 26th October at the Jyväskylä Kasvu Open Carnival 2017.
All together 32 companies participated in this program to which three of them were granted the market entry journey free of charge. The aim of the Grow to USA program is to help the TOP3 Startups to expand their businesses to US markets. The program takes them to the East Coast of the United States on January 2018 and it will include five days of customized partnership and customer meetings, networking and sparring. Addition to these, company's logo has been shown at the NYC Time Square on NASDAQ video screen during October 2017.
"We are very excited that XMLdation was selected as one of the TOP3 companies to win this award." said Juha Keski-Nisula, the founder of XMLdation. He continues "I am looking forward to this trip – it will open many doors for us. Meeting potential future partners and building a network in US markets are our top priorities right now. It will help us to strengthen our presence in North-America."
The program is executed with the following US market partners: Nasdaq, Marsh, Boardman 2020, vainu.io, Booming Strategies and Marketing, Crowe Horwath, Ministry for Foreign Affairs of Finland, BackedByCFO and Digital.NYC.
More about the Grow to USA program.