The women at XMLdation: Swati Singh
March is Women's History Month and it's dedicated to celebrating their contribution to society. We wanted to join in empowering women and honoring their achievements. This week we're introducing a few of the amazing women at XMLdation. If you missed our post about our CEO Tricia Balfe, you can find it from here.
Now in the spotlight is our software engineer Swati Singh.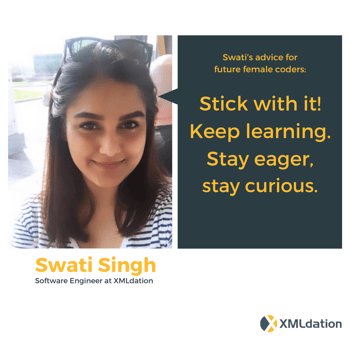 Q. What made you start coding?
While there are some really great and profound stories out there and I don't really think mine will compare to any, this is how I got started:

Back in 7th grade, my parents bought us a PC, a Windows XP. We're always playing video games and watching videos on it initially. As much fun as it was, I was really amazed at this thing and I got really curious to know what happens on the other side of the screen. I think a lot of it came from having an older brother. I always wanted to keep up with him and we're always exploring around, building, and breaking things in the PC.
And it was back then that he told me "If you'll learn how to code, you'll get to know how a computer works."
That's how I started programming at first when I was in 9th grade being completely unaware that I can actually make a career in the field of Computers!

I was always fascinated by technologies from a small age but never really thought of myself as a programmer. At the time, I don't think I even saw it as programming, I was just excited to learn and was having fun. Then eventually through college, it became like therapy for me, because you literally can't think about other things happening around you once you are in the middle of solving a problem puzzle.

Now, as a Software Developer, I program mainly because I like being able to build things, things I used to see, and wonder if it's even possible as a teenager.

Q. What made you choose XMLdation as an employer?
It's simple, I read about the company and its mission and vision to build a modern payment/ financial system. XMLdation as an organization is unique as it sits between the startup FinTech space and the established banks, and XMLdation's product makes their integration easier.

After finding out more about the cloud-based service, the product, and their modern technology stack, I was impressed with the innovation and developments made in this space and saw an opportunity to work, learn and grow in a highly collaborative and innovative environment.

And as we know FinTech is a thriving and ever-evolving industry I could clearly see how my goals aligned with the purposes of the company. There's nothing I love more than when I am working with other passionate & engaged individuals towards a common goal, and that's what excited me about working here.

Q. What you would say to women who are interested in starting coding?
Been a Software Developer in multiple companies for close to 7 years and I could not stress more on the following:

First, piece of advice. Just start. There's nothing to it but to do it. If you don't know where to start, Google is your friend ;)

One of the principles that I try to follow as a software engineer, is to keep things simple and straightforward. The work itself can be technical and complicated, so I find that a simple and effective system for coding can help you stay focused without becoming overwhelmed.

Stick with it! Keep learning. Stay eager, stay curious.

Oh, and the most important of all: Restarting your computer fixes your problems more often than you think (True Story!) ;)
Cheers!